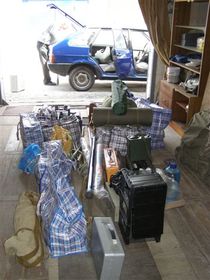 Preparation for the trip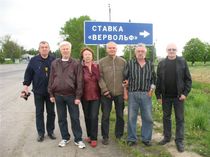 UR4UP,UT4NZ,UR5NQQ,
US5UV,UR8UB,UR7UT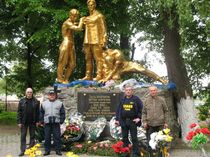 UR7UT,UT5NM,UR4UP,US5UV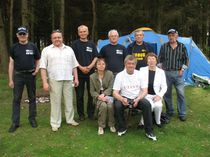 Memorable photo:
stand - UR7UT,UT5NM,US5UV,
UR3UX,UR4UP,UR8UB
sit - UT0NM,UT4NW,UR5NQQ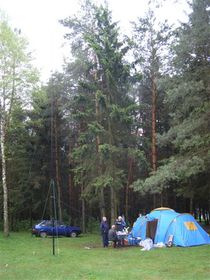 Our position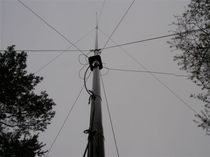 Antenna GP
In one of Vinnitsa newspapers "RIA" ¹48 for December, 18th 2002 "Over "Werwolf" pretenders walk gloomy", the author T.Parhomchuk considering about destiny of the former Hitler Headquaters notices: "..."Werwolf " is not so much the mass grave as Caution from the our Past to the our Future. A place where The Reich Leadership planned to Germanize of Ukraine by Settlers-Aryans and destruct Ukrainians as the Nation. Would understand us the lates if tourists'd go to memorial only by the reason "here there was Hitler"... To be here The Memorial of Nazi Victims ..., that, in particular... to depart from the name "Hitler Headquaters" which was formed in use".
By the Resolution of the Vinnitsa Oblast Soviet ¹100 from November, 7th, 2002 announced a competitionon for the best concept of an accomplishment of "Kolo-Mihaylovsky Historical Complex" where is situated territory of the former bunker "Werwolf".
Radioclub "Delta" members UR3UX Vladimir, UR4UP Vladimir, US5UV Sergey,
UR7UT Sergey, UR8UB Yury since May, 8 till May, 10th, 2010 worked by special
call signs: EO0UD in the Memorial "Pobeda-65" and EN1UCF by WCA program near villages Strizhavka and Kolo-Mihaylovskoe, Vinnitsa oblast from ruins of bunker "Werwolf" (WCA: UR-00148, UCFA: VI-003, URDA: VI-06, QRA KN49fh).
Were made about 500 QSO. EO0UD and EN1UCF qsl via UR7UT.
Many thanks to Vinnitsa radio amateurs and sympathizing with radio, who supported us and helped in arrangement and the organisation of the Radioexpedition!!!
73! Sergey UR7UT